nternational winter west coast series shifts to world championship brand
The 2024 season for Challenge of the Americas marks a new era for the international winter west coast series. The 17th season for the Challenge will expand to a more open format moving forward, welcoming a new tire manufacturer into the series.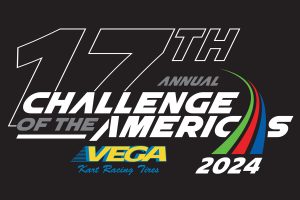 The Challenge of the Americas has signed on with Vega Tires for the 2024 season and beyond. The Vega Green XH4 tire will be utilized in all categories except for Cadet, which will compete on the Red VAH compound. Rain racing will utilize the Vega W6 rain tire. Full Throttle Karting, owned by FTK Promotions' Andy Seesemann, has been named the Western United States Distributor for Vega Tires.
"To say this is an exciting time for the Challenge would be an understatement," stated Andy Seesemann of FTK Promotions and Challenge of the Americas. "Over the last 17 years, we've had to adjust and move forward with the Challenge based on the current status of the sport. 2024 is one of those transition years as we move to welcome multiple engine formats and bring on Vega Tires as our spec tire. Bringing Vega to the Challenge puts the program on par with elite events around the globe and provides our racers with amazing products. Now with Vega under the Full Throttle Karting operation, it opens the door for us to work with many tracks, clubs and series here in the western half of the country to expand the Vega brand, including the best 4-cycle tire on the market with the Red VAH, now available to those on the west coast." Continue reading →